Fang Lijun (b.1963, Handan, Hebei, China)
Lives and works in Beijing.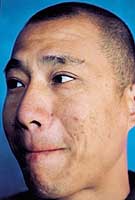 image source, Art and Culture, Fang Lijun:[1]
Biography
Edit
Fang Lijun is the leading protagonist of Cynical Realism, the major movement of the post-1989 era in contemporary Chinese art. Cynical Realism, an urban based movement, developed in the aftermath of the events of 1989 which included not only the demonstrations at Tiananmen Square but the closure earlier that year of the "China Avant Garde" exhibition at the China National Gallery in Beijing by the authorities. The 1980s were characterised by great idealism and hope in the avant garde artistic community, that the artists would be able to contribute to the regeneration of Chinese culture. The exhibition of their works at the China National Gallery was the culmination of that decade and signalled to the artists that they had been recognised. The dramatic closure of the exhibition soon after it's opening marked the destruction of those goals. The 1990s were characterised by a loss of idealism, a more ironical, a more personal viewpoint and a greater detachment from any regeneration of culture and society - a cold, realistic view of changing Chinese society.
One of the most famous images of contemporary Chinese art is the Fang Lijun painting owned by the Ludwig Museum, Cologne, Series 2 - Number 2, 1992. The main figure, a friend of the artist, could be yawning or yelling while the mute, menacing figures in the background bring to mind mindless, manipulated masses. The contrast between the strong individuality of the main figure and the dazed conformity of the four background figures is overwhelming. The bald headed youth which first appeared in the artist's paintings in the early 1990s has become Fang Lijun's characteristic figure and has been widely interpreted as the symbol of disillusion, mockery and rebellion in present Chinese society. Later series include the water series, dreamlike works of swimmers, and gigantic, multi-panel, woodblock prints.
Fang Lijun's works have been in virtually every significant exhibition of contemporary Chinese art since the early 1990s. He has been invited to exhibit twice at the Venice Biennale as well as at the Sao Paulo and Kwangju Biennales.
External Links
Edit
References
Edit
Community content is available under
CC-BY-SA
unless otherwise noted.