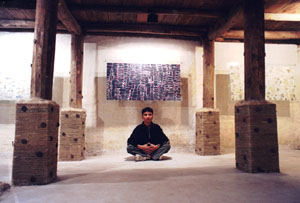 09/19/2006 -
Tran Luong's formative years, during which the country was at war, were spent in the countryside. Like many artists of his generation, he learned the values of traditional Vietnamese life from the countryside. Living there he also had a chance to explore nature, to walk the fields and meadows. With a keep sense of observation he watched and absorbed the patters of nature. In the pond he saw fish darting to and fro under the luminous surface, aquatic plants floating free, making random and ever-changing designs. Luong's work is based on nature as he experienced it. But his paintings have not always been this abstract. There was a period when more realistic paintings of fish and lotuses were made. He must have realized that the experience he felt of nature was more immediate, almost meditative in quality. In his recent work, therefore, he reduces all of the shapes to abstract forms, thereby allowing them to move, float, and shimmer, with pure sensation. And with what he achieves with these abstract forms, he takes us back to those moments in his childhood.
Luong's most recent work is based on performance and installation art. Like his earlier paintings, these pieces are also based on his observation of the world around him and his concern for the loss of traditional cultural values and the possible loss of history that vitnamese younger generation faces. It also comments on the plight of street children in Vietnam as the economy becomes increasingly free market and income disparities become increasingly larger.
Internal links
Edit
External links
Edit
References
Edit
Community content is available under
CC-BY-SA
unless otherwise noted.